The Division of Experimental Medicine Conference Room provides a unique meeting space on the ZSFG campus.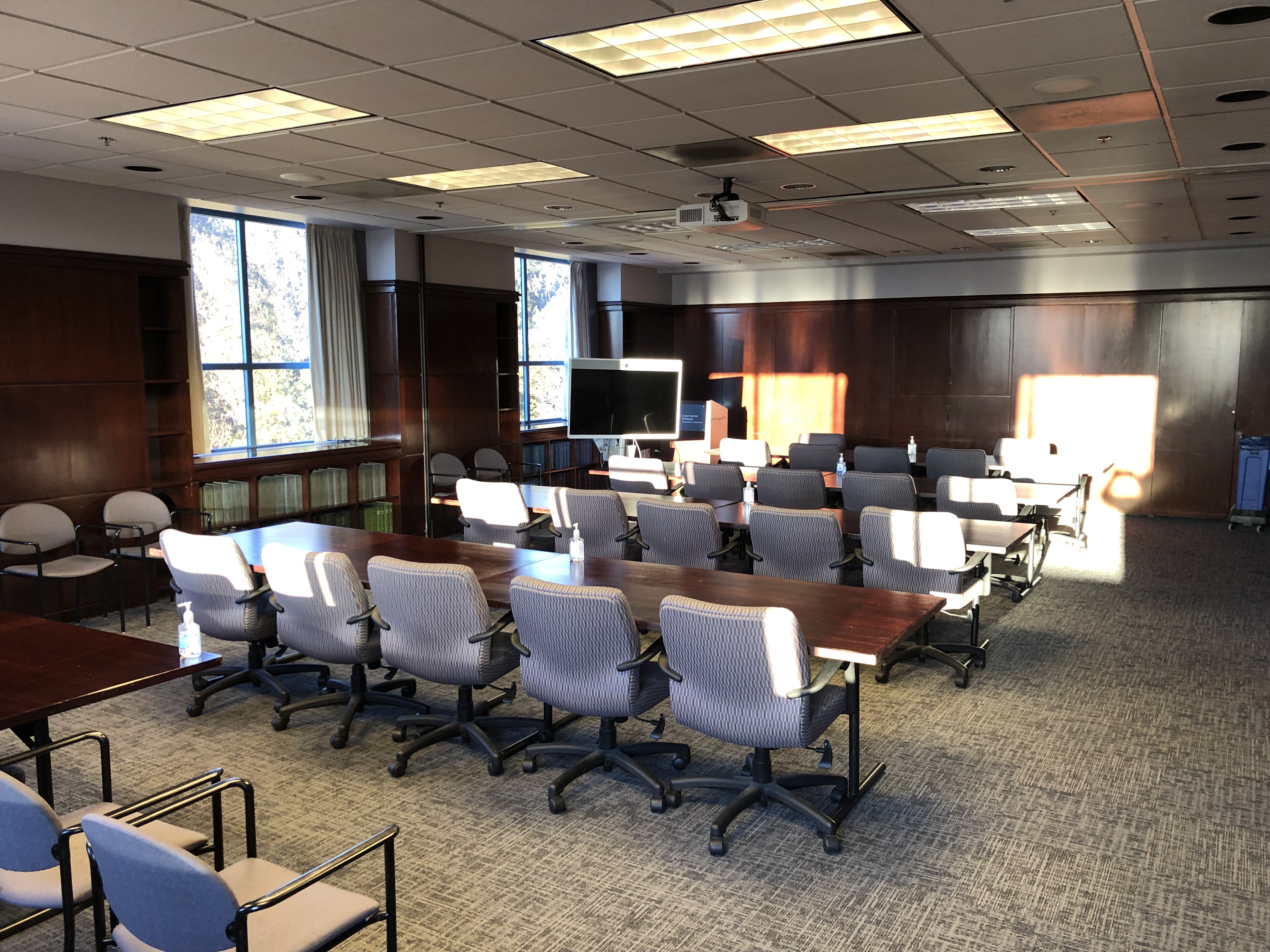 As of April 25, 2022, the SF Department of Public Health allows in-person meetings to the standard room capacity outlined below.
Food and drink are not permitted under any circumstances.
Our Conference Rooms
The conference room can be configured into 3 formats:
| | | |
| --- | --- | --- |
| Room | Capacity | Table Count |
| 505 A&B | up to 62 people | 9 large tables |
| 505 A | up to 40 people | 5 large tables |
| 505 B | up to 12 people | 2 large tables |
At the time of your room request we will place you in the appropriate size room set-up based on your expected head count. If you need the full space for catering or other activities, please make this known at the time of your request.
You may locate additional conference room space available at ZSFG here.
Reservation Process
Step 1
Preliminary check conference room availability. Our conference room calendar is viewable via Outlook in order to help you preliminarily check the availability of the room on your preferred date and time. To view the calendar in Outlook, navigate to the calendar and "Open Shared Calendar." Search "ZSFGBldg3505" and click "Open." This calendar is read only - all formal requests must be submitted via the request form below. 
Step 2
Complete Request Form. Fill out the Request Form which will require the information outlined below.
Event primary contact name, phone number, e-mail
Department/Division/Unit
Name of event
Date and length event
Special requests, including Zoom, projector/screen set-up, whiteboard access, OWL access
Number of anticipated guests
COA, SpeedType, or Cost Center
Exceptional Approval for Indoor Meeting
Catering plans
Step 3
Receive response for request. DEM will respond to your request as quickly as possible. If the room is available during your requested time you will receive a confirmation via an Outlook calendar invitation. If the room is not available we will send you an email accordingly.
​​​​​​Step 4
Schedule a room visit. If your room reservation is confirmed and this is your first time using the room, we highly encourage you to make an appointment to come and view the conference room before your event date.
Step 5
Request IT Set-up. Division staff will provide a projector, microphone, projector screen, and/or videoconferencing equipment upon request. Division staff do not provide IT or Zoom support before or during your event.
​​​​​Cancelling Your Event
Cancelled by you. Many groups would like to use conference room 505, if there are any changes to your reservation please contact DEM General at [email protected] and call at 628-206-8102 so the room may be offered to others.
Bumping rights. The Conference room is a divisional resource; therefore, all division meetings take priority. Consequently, the Division of Experimental Medicine reserves the right to bump anyone outside the division for use of the conference room. If this occurs, we will try to provide as much notice as possible, and we will not be responsible for finding another location for your meeting. We reserve the right to refuse future reservations to individuals that do not comply with the conference room policies.
Last Minute Changes to your Reservation. We understand that last minutes changes for events occur. If you have a last minute change, please email DEM General at [email protected] AND call at 628-206-8106.
Day of Event Process
Step 1
Arrive in time for event set-up. DEM will provide you with our standard conference room style set-up. If you would like to set-up the conference in a different layout, you will need to do so during your set-up time prior to your event. A representative from your group needs to be present to receive the catering and classroom support. DEM administration is unavailable to assist with your event set-up.
Note: DPH HP computers are not compatible with our set-up. Mac and Dell computers are compatible. 
Step 2
Initial access to the 5th floor conference room. The conference room is located on a secure floor in Building 3; therefore, you can only access the space with a fob. When your event organizer for the event arrives to the Building 3 they will use the black phone across from the elevator in the lobby to call the DEM Administrative Office (Room 605) for access.
Step 3
Guest access to the conference room. During your event you are responsible for ensuring that your guests have access to the conference room. You will need to follow the steps below to provide access:
Designate an elevator-fob person to allow access of your guests into the elevator

Come directly to the 6th floor to collect the elevator fob before going to the 5th floor
Meet your group on the 1st floor

Place fob over the elevator card reader

Press #5 floor button and step out of the elevator and wait for your next group or guest. Fob does not need to be in elevator to operate.

​​​​​​
We are a secured are. Only allow members from you group into the elevator. If someone wants to tailgate with your party into the elevator please encourage them to use the black phone to call the DEM for clearance. For all UCSF and DPH employees ID badges must be worn and visible.
Step 4
Clean up after your event. Our conference room is a valuable resource for the division. Please review the following reminders for caring for our space:
Place all garbage in the in the BLACK TRASH BINS. DO NOT place garbage in the BLUE RECYCLE BINS as it will not be discarded by the custodians.   

All remaining food should be taken with you or disposed of in the appropriate bins.

DO NOT LEAVE FOOD IN CONFERENCE ROOM.

 

Return the tables and chairs back to their original setting at the end of your event.

If your event ends after 4:30 PM, make arrangements to return the elevator fob to DEM Administration the morning following your event.

DO NOT ATTEMPT TO OPEN OR CLOSE THE ROOM DIVIDER/WALL. Operating the divider requires special handling. If the door breaks there is a $1500 repair fee that will be assess to your COA.

Return any borrowed equipment (adapters, elevator fob, etc.) or you will be charged for the replacement of each item at current market value.

The room must be restored to its original condition at the end of the event; all tables and chairs must be returned to

their original, conference-style positions, and folding chairs placed around the side of the room. The projector screen and blackout curtains must be returned to their closed position, all trash removed, tables, chairs, and counters wiped off, and all food promptl

y removed. For your convenience, cleaning supplies

are available in the conference room cabinets.
Catering Policy
If any type of catering is involved, the individual or group who made the reservation must be present to receive and coordinate all catering activity. Catering must be set-up outside of the conference room using the provided tables.
No catering should be set-up inside of the conference room.
At the conclusion of your event, a member of your group must ensure that proper clean-up has occurred, catering service items have been picked-up, and the conference room has been restored to its original condition. All trash should be disposed of using the appropriate garbage and recycling bins. All remaining food should be taken with you or disposed of in the appropriate bins. DO NOT LEAVE FOOD IN CONFERENCE ROOM after your event.
Rental Fees
The rental fee for the conference room is as follows:
UCSF and DPH only
The rental fee is free; however, we require COA, SpeedType, or Cost Center to secure the conference room. You will be charged the rental rate of an external client if the room is not cleaned and restored to the original state immediately following the event. These fees will be assessed no later than thirty (30) business days after the event.
External clients (outside UCSF and DPH)
Conference room A large room $300
Conference room B small room $300
Conference room A & B Whole room $600
You will be charged an additional minimum fee of $200 if the room is not cleaned and restored to the original state immediately following the event. These fees will be assessed no later than thirty (30) business days after the event.
If there is damage to the conference room, report it DEM General via e-mail at: [email protected] immediately following your event.